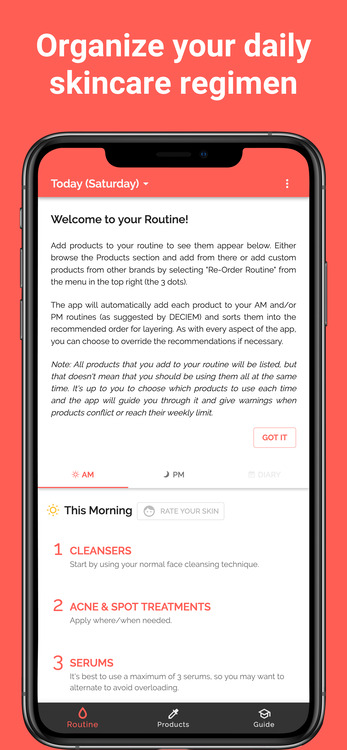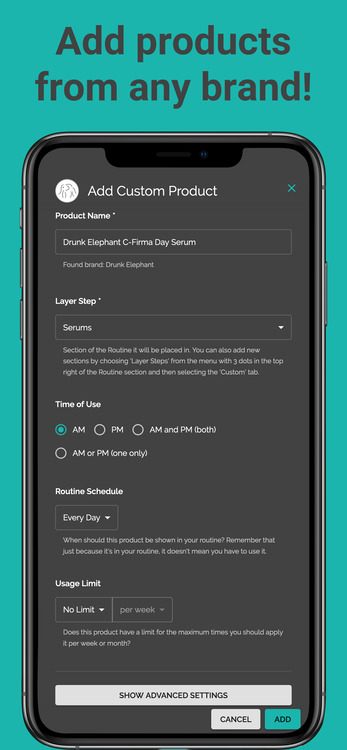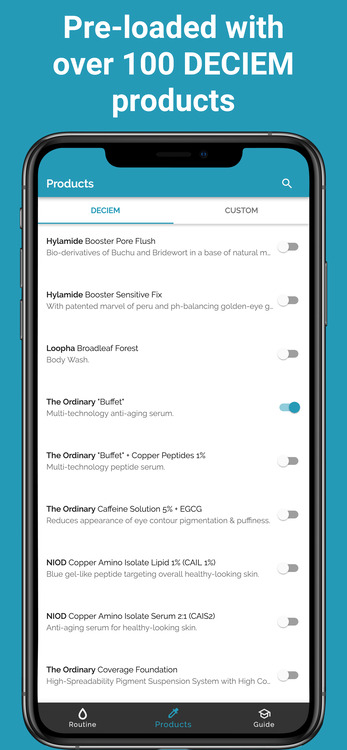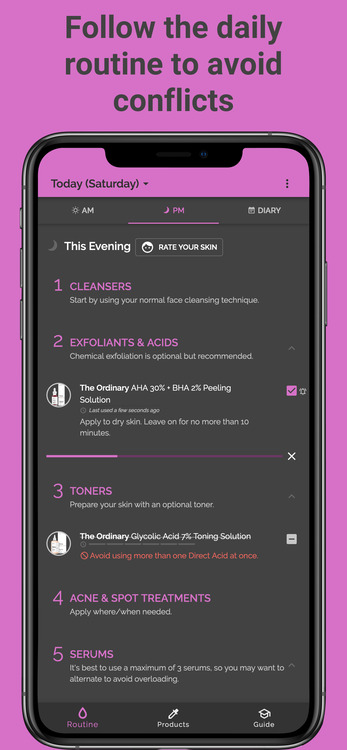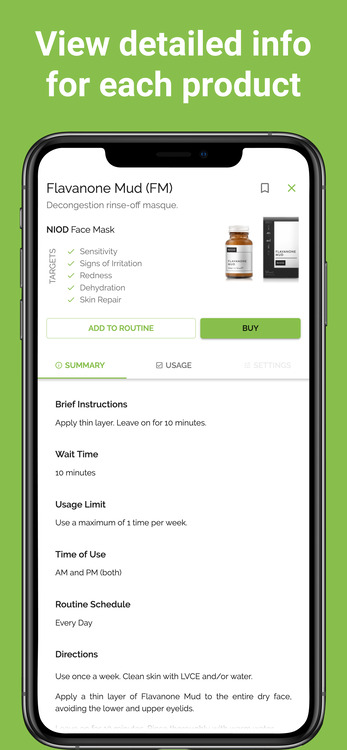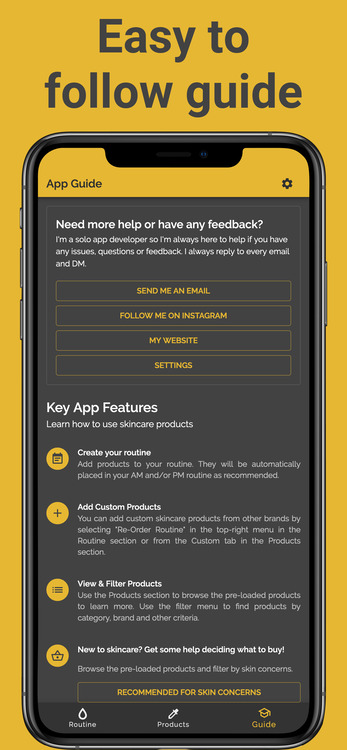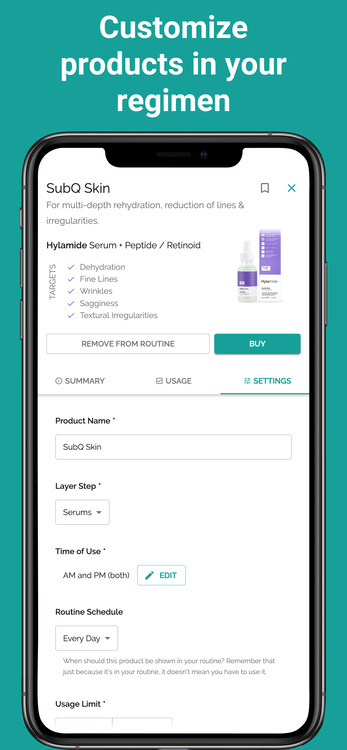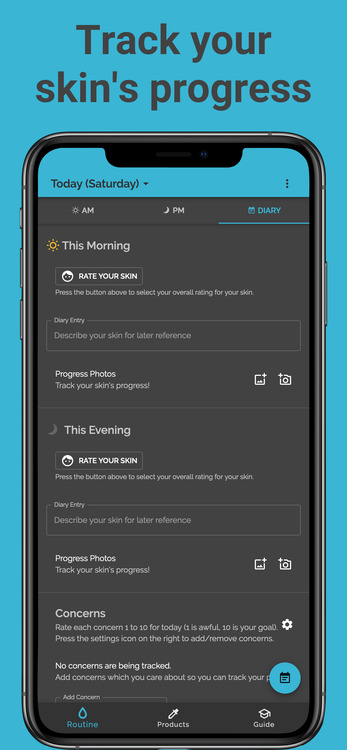 Skincare Routine helps you get to grips with the fantastic range of products from The Ordinary, Hylamide, NIOD and other DECIEM brands. If you're looking to try some of the treatments but you've found the choice overwhelming or you're unsure of how to use them, then this app could be perfect for you!
You can add any product from any brand to complete your routine. Even if you don't use any DECIEM products, it will still help you place your routine in the correct order and avoid any potential conflicts between products.
It's available for iOS (iPhone / iPad) and Android (phones and tablets) now! The app is available in English, Spanish, French, Portuguese, German, Italian, Polish, Russian, Vietnamese and Japanese.
What is The Ordinary?
The Ordinary is an affordable skincare brand by DECIEM which has become incredibly popular in recent years. Their range of face treatments can be daunting and confusing. The Ordinary have a set of rules and recommendations of how to combine their products in to your skincare regimen. Skincare Routine takes these rules and puts them in to an easy-to-use tool which can become part of your daily routine.
Where can I buy The Ordinary products?
Due to its increasing popularity, it's often out of stock in many stores but Lookfantastic.com is a great place to start!
How to use Skincare Routine
Create your regimen

Browse The Ordinary, Hylamide & NIOD products and add to you regimen.

Add Custom Products

You can add custom skincare products from other brands by selecting the option in the top-right menu in the Regimen section.

Use your regimen for layering advice

Follow the recommended layering order, along with advice for when and how to use each of The Ordinary products.

Skincare Routine checker: Keep track of usage to avoid conflicts

Each morning and evening, check each product off your list to keep track of which treatments you have used. This will allow the app to prevent any conflicts by showing you which products should be avoided.

Alternating Treatments

When switching between products on different days (either due to conflicts, weekly limits or just to avoid overloading), you can see the last six days of usage (most recent on the right) to help decide which to use next.

Track your skin's progress

Any time you notice your skin is looking particularly good or bad, you can make a note of it by pressing on the face icon next to the morning or evening routine. You can also add a comment to note down more details for your own record and add photos to track your progress.

Reminders & Timers

You can set up notifications to remind you about your daily skin regimen. You can also set timers for products which require a specific wait time. Both can be found in the Settings..

Share your routine

Once you've completed your AM or PM routine, press the 'Finished' button to move to the next step. You will see a handy list of the products you ticked, along with the option to open a screen with the list formatted nicely for sharing on Instagram or forums.
Advanced Customization
Fully personalize your regimen
Re-order Your Regimen

If you don't wish to follow the recommended layering order, you can choose to re-order the products to fully customize your routine by selecting the option from the top right menu of the Regimen section.

Use Conflicting Products

When we recommend not using a product due to conflicts with other products or because you've reached the usage limit, you can choose to ignore the warning and use it anyway. You will then have the option to permanently ignore conflicts on that specific product.

Change Time of Day

There are some products which can be used AM and/or PM but one is recommended more than the other. From your regimen, select a product to see the option to change the time of day.

Override Times

There are other products where it is strongly recommended to only use at a specific time of day or only once per day. This can be overriden by selecting a product and pressing the Override button.

Choose Weekdays

You can choose specific days of the week for a product if you wish. For instance, you may wish to make it so that the "AHA 30% + BHA 2% Peeling Solution" only appears in your regimen on Tuesdays and Fridays.

Change Layer Step, etc

When viewing a product from your regimen, you will see a Settings tab which allows you to change options such as which layer step the product should be listed under.

Keep track of open dates

Set the date when you opened specific products to make sure you don't exceed the recommended use by limit.

Custom Conflicts

If you don't want to use two or more products at the same time, you can specify custom conflicts under the Settings tab of a product.

Product Versions & Application Uses

Some products have multiple versions (such as the Serum Foundation having multiple colours available). Once you've added the product to your regimen, go to the Settings tab for the product and you will see the option to change the version. Other products have multiple application uses (such as the Salicylic Acid being used either directly on spots or as a serum for the whole face) which you can also set in the Settings tab.
Contact & Links
Privacy Policy
Your data is stored on your phone and sometimes backed up securely to the cloud (excluding your diary photos). Your email address is used only for storing and recovering data. Nothing is ever used for marketing or given to any third parties. Contact info@skincareroutine.app to request deletion of any cloud data.
© Mento Apps Ltd. Skincare Routine has no connection with DECIEM, The Ordinary or any other skincare brand.